June 18, 2018. I awoke in the outskirts of Amstetten, Austria, within a stone's throw of a sign indicating that this was a biologically sensitive area. On my way to the town center, I spied a stately schloss (church complex). This one, Schloss Ulmerfeld, was built around 995. Sadly, the Schloss museum was closed. I drove to the town center and had a latte. When I travel, I attempt to live within the fixed income I do so at home, and which permits a very limited number of luxuries. For example, I rarely eat out or sleep in paid accommodation. A latte and pastry, or ice cream, have become my daily indulgences that I look forward to. It's my way of keeping my inner child from feeling terribly deprived. Speaking of which, as I walked into town, I spied some people sitting at a table eating ice cream. The next thing I knew, I was holding an Amaretto sundae. I had hoped for a leisurely dessert but felt rushed about getting back to Budapest for my next dental appointment. Reluctantly I left the lovely town and began driving toward Vienna, when I got the call that my appointment was postponed until the evening. Woohoo! I had some extra time to sightsee.
I decided to stop in Sopron on my way back, whose beautiful Baroque and medieval architecture was a rarity in Hungary. After the breakup of the Austro-Hungarian Empire, there was conflict about which country Sopron belonged to, as many ethnic Germans lived there and it had been a part of Austria at one time. The ethnic Germans and their culture are now recognized, with many of the city's signs written in both Hungarian and German. It receives many visitors from Vienna and Bratislava, as well dental tourists eager to partake in the excellent low-cost dental services offered. Sopron boasts more than 300 dental clinics, and has a reputation as the "dental capital of the world". Too bad I hadn't known that before having dental work in Budapest, as Sopron is much quainter. But I doubt there were dentists of equal quality to Dr. Windisch.
I loved the old city center and walked along the city walls. I'm a sucker for churches, which is ironic since I don't like the dogma that most preach. But I love the artistry and beauty of their architecture, which isn't surprising given that the Church was all powerful and held the purse in most parts of Europe until recently. So no surprise that I marveled at Hungary's oldest Gothic church, Szent Mihály, in the town's main square. The town is littered with churches boasting lovely architecture. The woman at tourist information advised me to see the cities of Tata and Székesfehérvár enroute to Budapest.
I didn't have time, as I had to be back in Budapest shortly. So I filed the knowledge away for another day. Sopron had a host of museums that I longed to see, including a fire tower, bakery, synagogue, Roman lapidary, and town residences. I especially wanted to see the archaeological collection from the Fabricius House, the history of Sopron from the Neolithic age to the 16th century and included artifacts from the Illyrians, Celts, and Romans. Instead, I drove like a bat out of hell to the Pest side of the Danube, looked in vain for parking within a mile of the dental office. I threaded my way through the cobblestone streets, judiciously avoiding the main tourist trap a block away from my dentist's office on Vera Street. I arrived out of breath, and waited till Dr Windisch was out of surgery. I have to book 3 to 4 months in advance to get on his calendar. He replaced a temporary crown over an implant with a permanent tooth, and extracted my bottom right molar. I left the office weary at 10:30pm, and headed toward Lake Balaton. I couldn't find a good spot so slept near the freeway exit to Lake Velence. I barely slept due to the roar of traffic.
June 19. I woke after first light and headed to Székesfehérvár. I use an eye mask and earplugs which help me sleep in and get better sleep than otherwise. Like Sopron, Székesfehérvár has a wealth of museums, from a pharmacist shop to a toy museum. I began at the Coronation Basilica's garden exploring the remains of an ancient church. The archaeological collection of the King St. Stephen Museum describes life in the environs of Fejér County from the Neolithic to the Ottoman times. One of my favorite items was the stonework of the royal basilica. The fine arts section of the museum features a famous panel painting by Vilmos Aba-Novák, winner of the Grand Prix award in 1937 at the Paris World Expo in the Hungarian pavilion. Apparently Picasso exclaimed, "Who was the barbarian genius?" Three museums feature authors and artists, the Ervin Ybl Collection, the Dénes Deák Collection, and the New Hungarian Gallery featuring the greatest Hungarian painters (József Rippl Rónai, István Csók, Aurél Bernáth, and Bertalan Székely).
I loved the history of this town. It was steeped in it. Unfortunately I was in a rush, as I wanted to spend time in Slovenia during my week between dental appointments. One of the many things I'd hoped to see and didn't was the open air museum of Palotaváros (Palace Town), made up of two medieval suburbs, Sziget and Rácváros. Rácváros was named for the local Rác (Rascian, aka Serbian) farmers, craftsmen, and merchants who had lived here, and included a Baroque style Serbian Orthodox Church built in 1772. As usual all my perusing made me hungry and I found goulash, and topped it off with ice cream.
Around 2pm I headed for Ljubljiana, and out of curiosity turned off and explored a few Slovenian villages enroute. I turned off at Vransko because I saw a historical marker. I'm a sucker for anything historical. I walked around the small town and called my mom, who was stressed about the sale of her Portland residence and issues with the Santa Cruz property, and my friend Faride. Hungry, I drove into the nearby mountains hoping to find an inn. I saw a motorcycles welcome sign and headed up the road. There was an old water-powered mill still turning. I don't remember the name of the place but think it was near Kamp Podgrad-Vransko. I arrived around 8pm, but no one was there. I almost never use my phone to find accommodation, food, or attractions. I'd rather let serendipity guide my journey.
I called the number written on the hand-lettered sign and decided that if no one showed up I would park in the driveway and sleep. Nothing like being a hobo. At 9pm the owner and his family arrived. I fell in love with Stanislaw and his wife Marijana. I was lucky that Ksenia, his daughter, was visiting from Berlin and spoke English. Stanlislaw gave me a salve he had made for Ksenia for her rheumatoid arthritis from comfrey, pine needles, and beeswax. He also gave me homemade schnaps, which is a tradition all over this part of Europe. People make schnaps from whatever fruit is growing nearby, whether pear, plum, apricot, peach, apple, or gentian flower. I asked for lodging and whether it was possible to have dinner. I felt so at home there that I could have stayed forever. The dinner was delicious, a stew of meat and potatoes, the kind of food that sticks to your ribs. I fell asleep in my cozy bed to the sound of the mill wheel going round. I was so comfortable that I slept for 12 hours.
June 20. I woke at 11 am and went downstairs for a breakfast of freshly baked bread, cheese, meat, and marmalade. There were some Slovenians in in the beer garden. Stanlislaw told me that Tito's pilot (THE Tito) had painted various comic scenes on the walls. Marijana, Ksenia, and her husband returned from shopping at 1pm. We talked for some time and then Stanislaw showed me the mill workings, their wood fire stove, and the wonderful table that he'd made with benches all around. The mill had been built in the 1800s. They had found this place 23 years ago when visiting friends in Vransko. At 3pm we ate a wonderful meal of pork, peas, and potatoes with a delicious sauce and fresh salad. I had planned to eat fresh trout from the pond but joined them instead.
After the meal I headed into the forest on the edge of their property and sat next to a steam and listened. I came back and took a shower, then I followed Kresnia and her husband to Kranj where her sister Doris and Goran lives. We went on a tour of the old town and Goran told me the history. We walked up a hill to a fancy hotel to watch the sunset and had to wait for a bus. When we got back to Doris' home, they bid me farewell and gave me driving directions to Bled. It had been a lovely day. I didn't want to leave. I drove past Ljublijana but didn't sadly didn't stop. I found a camp site in the forest past Bled down a dirt road that was 100 paces from the road and very noisy. As luck would have it, my tent pole snapped. It was a Big Agnes Copper Spur tent, and I didn't know how I would get it repaired. I spent the night worried about what I would do.
June 21. I woke bleary-eyed and emailed Big Agnes and Ksenia about a possible fix for the pole. I'd thought that Goran could help, since he is an industrial designer. Ksenia said he was too busy and unavailable. I drove to several quaint old villages and then to Bohinjska Bistrica for help. I had a latte at Gostilnica Štrudl, and inquired at the local Mercantor hardware store about a possible fix, but the employee didn't have any suggestions. I made a panic buy on eBay of a new Big Agnes Copper Spur tent for $350 (it was $450 on Amazon) and had it shipped to Shawn before he left for Europe. I quickly regretted not getting only poles, but I didn't think they'd come before he left. I wondered whether the mechanic might be able to help, but they were at lunch till 3 pm. I bought bread and returned to the hardware store, where I found someone else who helped me repair the poles. We broke off the jagged edge and taped the end with duct tape. Again, I regretted the new tent purchase. I am plagued by (selective) frugality, and this purchase was beyond the pale since who needs two tents? Turns out that I have used both since, when Shawn and I have gone camping and wanted to stretch out.
Satisfied with the temporary fix, I headed up the road and rested in the shade. As it was 93F, I was inspired to swim in a tributary of Lake Bohinj. I hadn't bothered to bring a suit, and went in a sports bra and underwear. I then explored the 400 year old altar at St. John the Baptist Church altar and its beautiful frescoes from the 1300s. From there I walked along extremely windy lakeshore and watched the windsurfers, then talked to a boat guide. He lived in Bohinjska Bistrica and recommended Tripic, a restaurant that specializes in serving fresh trout. He also recommended a homemade ice cream place on the lake that has been owned by an Armenian family for three generations. I had a cone with three scoops, and liked it so much that I had three more in a sundae. Apparently this was the last day of peace before school got out the next day, when all of Slovenia would be on vacation. I was glad I had beaten the crowd.
I drove to the waterfall at the end of the lake and but decided not to walk the trail, as it was getting overcast and cold. Besides, I'd hiked it on a previous visit. I headed back to Bohinjska Bistrica for my trout dinner, and was in heaven as I ate the fish marinated in fresh garlic and served with red pepper, zucchini, and potatoes. Today was solstice, and I'd managed to spend the entire day outside. What a great way to spend this auspicious day. It is the reason I travel. After my delicious meal, I headed up the mountains toward Soriška planina and found a meadow with fireflies. It couldn't have been more magical. The tent pole seemed to hold. I hoped it continue to do so through what was supposed to be a stormy night. I was woken by flashes of lightening. It was exhilarating.
June 22. It rained all night and into the morning. I waited until the rain lessened before packing. There were lots of cars on the road as I continued to drive up the mountain, and I wondered why since this wasn't a tourist area. Up and up I drove, then down. Then I found out what all the cars were about. There was a big mountain bike race underway. Just my luck. Traffic was practically at a stand still, so I stopped in a small town and took some photos of house frescos. I decided to drive back to Bohinjska Bistrica for bread and a latte at Gostilnica Štrudl. It was a rainy and cold 56. I headed down the moutain toward Bled and veered off toward Bohinjska Bela to have a walk around. I loved the quaint little village with idyllic mountain houses. I headed to the west side of Bled and parked away from the lake up a hill to avoid the 10 Euro parking fee. What did I say about frugality? I walked down to the lake and headed along a path toward the castle. A guy was holding a giant carp that he had just caught and planned to release. I had a nice conversation with a Colombian family who gave me ideas of places to visit in Bled. These moments of interaction are one of the things I most love about travel.
I headed back to the car and drove into old Bled. I found a great cafe with… homemade ice cream! I had three scoops of six flavors with whipped cream. Seemed more like six scoops. My pants don't button now. After walking around for another hour, I headed down the hill to Radovljica, a lovely historical town filled with Gothic and Renaissance architecture. Part of the reason for the historical buildings was a fire that burned the town in 1835. This has been the case in many places. When it was built back, they chose to build it in a historical fashion. I went to the gingerbread museum in the basement of Gorenjske Lekarne, where you can observe gingerbread artists at work and taste freshly baked gingerbread cookies. The recipe is simple: mix spices, flour, and water and let them sit for three weeks, then bake them for 10 minutes and then let them sit in a hot room for 3 days.
From there I went to Čebelarski muzej, the beekeeping museum, that houses an amazing collection of bee-related items, an informative video about bees, and a live hive that you can view in action. There is a long history of Slovenians who developed ways to improve apiculture, including Anton Janus who found a way to harvest honey and wax without killing bees. There were also boards featuring folk art from the 1700s, particularly of animals processing with people. The city has a preserved moat and lovely city wall. I went to St. Peter's church, an exceptional example of a gothic three-nave church. It is adorned by beautifully designed vaults, an angel star and a black marble altar.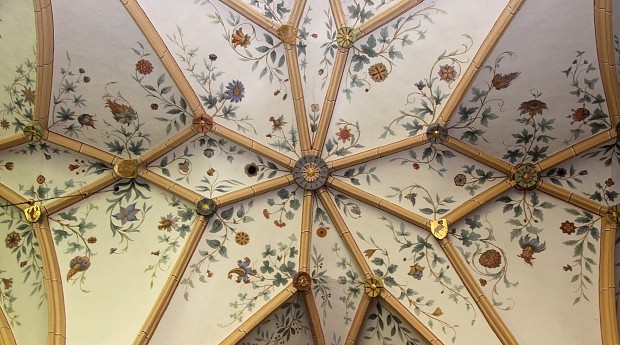 From here I headed to Brezje to see the Basilica, which began in 1800 as a small chapel in honor of the Virgin Mary as part of the Church of St. Vitus. In 1814 Leopold Layer painted the chapel and the image of Our Lady after a motif from Innsbruck, Austria. In 1863, after several miraculous healings, pilgrimmage to Brezje became popular, and the church became too small to welcome the pilgrims. As a result, a new church and Fransciscan monastery was built.
As I walked into the chapel, I heard lovely singing and sat in a pew, enjoying the feeling of peace. After some time, I headed to Mišače in hopes of finding Roman ruins, but instead found an old water mill. I went back to Radovljica for folk dancing but the band had finished and the town was filled with marathon runners. I wanted to explore the alpine region, so headed to Mojstrana, then Aljaž Lodge in the Vrata Valley (the Alpine Museum). It was closed, but offered a lovely vantage point, and I stood and watched as the alpine glow faded from the mountains. The Bistrica River below ran crystal clear. I drove down to the waterfall and walked for a while. It was getting cold, and my hands were going numb. I drove back down to Mojstrana and further up the valley to Kranjska Gora, where I came upon a police blockade. They didn't stop me, as they were very busy. I walked around the old town in the dark and read about the Russian POWs who built the road over the pass. I was sad about the hundreds of men who had been killed by avalanches. I decided to camp near a horse stall at a nature camp.
June 23. I love good soft ground. I woke and walked along fenced meadow past a hay rack. I looked for coffee and found a good cake shop that made horrible lattes. I went back to tourist information and got a latte somewhere else. This is always a good time to write my blog or take notes, as cafes usually have WIFI. I met a young Berliner, Phillip, who lost his phone on the bus. He and his friend are environmental researchers and had just come back from a hike in Triglav National Park. We talked for two hours, and he told me about the deplorable state of public transit in big cities in Germany (news to me), poor air quality, and the state of the global environment and climate change. I rarely get to talk to people who are concerned about these issues, so it was wonderful for me. Finally, I started out for the pass, hiking slowly. I stopped at every viewpoint. I was surrounded by views of Lake Bohinj, the Russian chapel, and alps on every side. I then drove to the end of the road near Trenta where I parked and hiked the Velika Korita Soce (the Soca Grand Canyon) that follows the Soca River. The river has four large limestone canyons, the largest of which is the Velika Korita.
After the hike, I explored the cemetery and old churches in Trenta. The environmental center (informacijsko središče Triglavskega narodnega parka Dom Trenta) focused primarily on geology. I drove on towards Bovec, and found the Ravelnik Outdoor Museum. Following a small path through the forest brought me to the remains of life on the Austro-Hungarian front line during WW I in Bovška kotlina. There were trenches, caverns, bunkers, shacks, as well as a crater from "the only grenade" that hit these positions during the war. Ravelnik was the name of this site, which at 1700 feet elevation defended the strategically important road over the Predel mountain pass, which supplied soldiers with ammunition, food and medicine. It felt eery, and I had a lot of sadness thinking about the inhumanity of war. So many died. And for what?
Then town of Bovec was only a half mile away and full of rafters and hikers hanging out and eating locally sourced hamburgers on homemade buns and fries. I liked the town and decided to stay until dark. I watched the World Cup match between Sweden and Germany, then crossed the bridge to Čezsoča to find place to camp. I had a feeling it was a problematic location.
June 24. My intuition was right. A regional police officer banged on the car roof at 6:45am and charged me a 42 Euro fine for sleeping in my car in Slovenia. I didn't have 42 Euros so he took my passport and made me follow him to Bovec. I felt a deep sadness that a country would categorically disallow camping. It reawakened a long-standing feeling I have about trespassing. Why is it that humans cannot walk or sleep on the earth? What damage does that do? Most people living in urban environments around the world are disconnected from the rhythms of nature. Wouldn't it help them to reconnect by putting their head on the earth's belly?
I also felt sad about needlessly losing 42 Euros. I felt a need to reward myself with a latte macchiato, and call to my friend Kanga, whose empathy has often turned things around when I'm feeling blue. I found a laundry in Bovec and read the NY Times on my phone. I'd been paying a small fee to get the paper online (minus the Sunday feed) and especially enjoyed reading it when abroad and disconnected from American news. I was quickly overwhelmed with matters of immigration, family separation, and trade wars. With that, I headed to Kobarid to see the WWI museum which documented the 1917 Battle of Caporetto, the Italian retreat documented by Ernest Hemingway in A Farewell to Arms. I headed to the next town and read about the history of the area while buying cheese from a local farmer. From there, I headed to Tomarin and walked down to the river on a street with Venetian-looking buildings. I spent an hour and a half in the museum, which covered prehistory, the 1716 rebellion, all the way up to WW II. I continued on to Kanal ob Soči, where I found St. Rafaelo and the best ice cream I'd had all summer: a triple scoop of pistachio, Amareno, and caramel with real butter toffee. I sat eating my ice cream and watched a man build stone piles in the Soca River. He reminded me of an individual I call Beaver Man who stacks rocks in Santa Cruz Mountain creeks. I headed to Brda, a walled city which got its current look during Hapsburg-Venetian conflicts in the 1600s. I went into a home that featured olive oil tasting where I watched a documentary about life in the area in the 1950s featuring cherry and peach harvesting. From there I headed to Isola, a beautiful little coastal town where I hungrily ate some fish as I had a long call with my boyfriend Shawn and walked through the winding streets till 10:30pm. I've rarely been able to find a place to safely park near the coast in most countries, so I headed inland toward Lipica, a stud farm where Lipizzan horses originated. I slept with one eye open for fear of being caught by yet another Slovenian official for guerrilla camping.